Role-Playing Game Community Center

RPG Community Center and RPG Mobile Wheelchair Accessible Bus
RPG Research's East-Central Spokane Role-Playing Game Center is open to the public as the RPG Community at 101 North Stone Street, Spokane, Washington.
DONATE

Role-Playing Game Experiential Learning Museum
East side of the RPG Center, the Role-Playing Game History Experiential Learning Museum
VOLUNTEER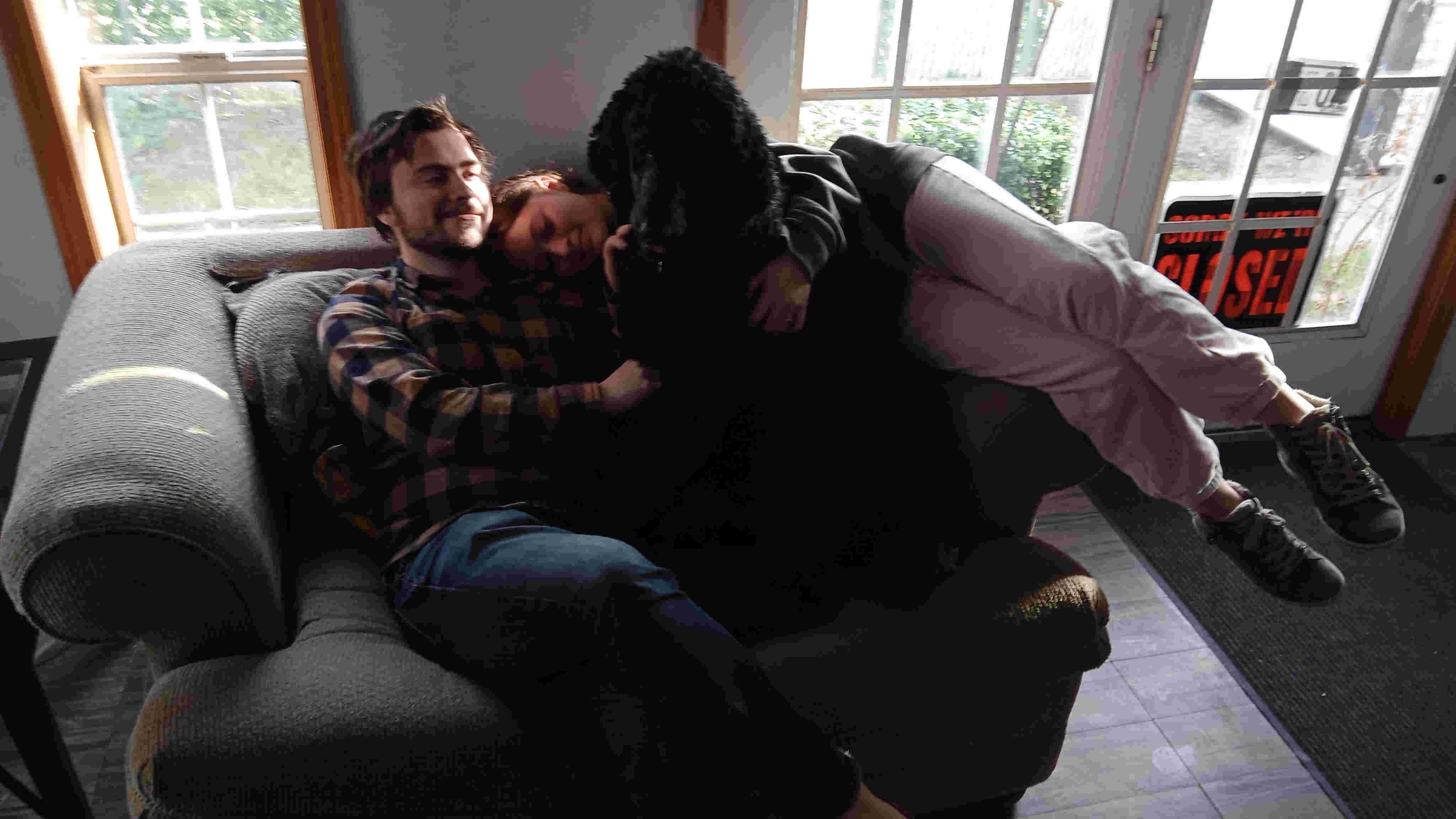 Warm and Friendly Friends
Mort the Standard Poodle. He loves cuddling, which is great after a long stressful day to just unwind. Mort is named after a character in the Terry Pratchett Discworld series.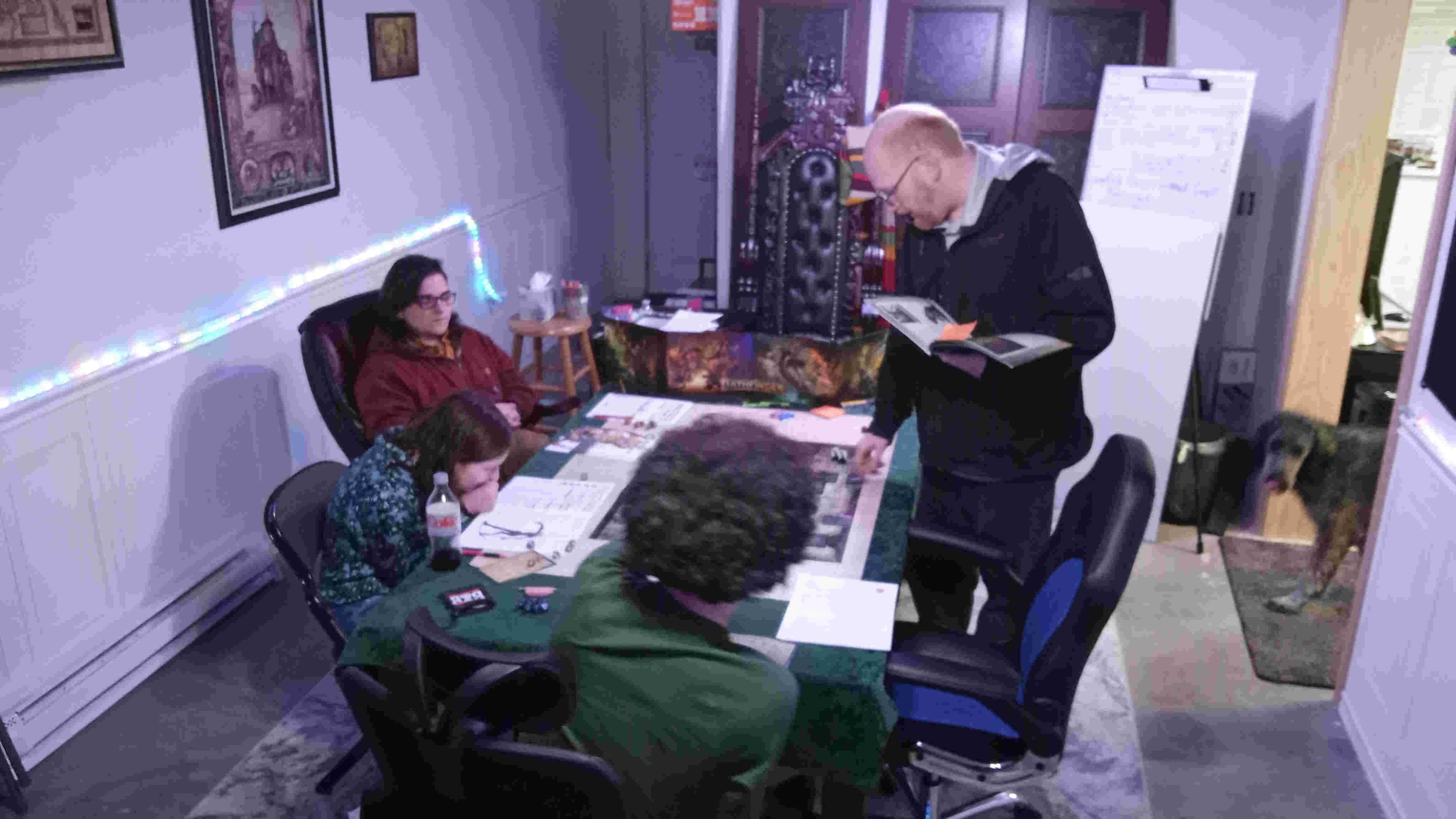 Fun Games and New Friends!
Making new friends around the game table, and Radar the Standard Poodle might pop in to be available to pet and cuddle as well.
Previous
Next

Free and open to the public, thanks to the 100% unpaid volunteer-run 501(c)3 non-profit charity, RPG Research.
Ages 4 to 104+ welcomed! Wheelchair accessible
Locations and Schedule Join open role-playing game sessions (first-come, first-served):
The RPG Community Center - 101 NORTH STONE STREET, SPOKANE, WA 99202

NEW HOURS: Fridays 5-9 pm
Saturdays 1-5 pm
Tables available range between 1 to 3 tables in the shared community center space currently. In the coming months we will be be opening up additional tables in the other private gaming rooms (less noise).
We are preparing in the coming 6-9 months to accommodate up to 15 tables (3 in downstairs shared space, 4 in upstairs shared space, and 11 each in a private space).
We will also be resuming non-combat and boffer larps soon.
We will also be resuming electronic RPGs, including Virtual Reality (VR) soon (6 stations)

Spark Central - 1214 WEST SUMMIT PARKWAY, SPOKANE, WA, 99201

First and Third Saturdays 1-4 pm
We can usually accommodate 2-3 tables. The space maximum capacity is 5 tables in the shared community space (no private game rooms).
A wide range of RPGs available (specific availability varies each week depending on Game Master availability):
Adventures in Middle-earth (AiMe) / Lord of the Rings RPG (LotR RPG)
Basic Fantasy RPG (d20) (BFRPG)
Call of Cthulhu (CoC)
Dark Crystal RPG (DCRPG)
Doctor Who Adventures in Time and Space (DWAITS)
Dungeons & Dragons (D&D) OD&D, AD&D1, AD&D2, BECMI D&D, 3.x, 5e, One D&D
FATE, FATE Accelerated (Dresden Files, Cresent City, and others)
No Thank You Evil (ages 4+) (NTYE)
Pathfinder
Starfinder
The Labyrinth RPG
The One Ring RPG (TOR 1st and 2nd Editions)
Top Secret: New World Order (TS:NWO)
AND MANY OTHERS!
The 100% Volunteer-run Non-profit Spokane Role-Playing Game RPG Community Center provides programs to the public that help improve functioning, social skills, empathy, literacy, practical skills, resilience, quality of life, and much more! Our programs have directly helped improve functioning and quality of life for tens of thousands of people.
Check our blog posts at https://rpgresearch.com/blog each week for which games are planned, or just Drop In an RPG!
DONATE TODAY SO WE CAN KEEP OUR DOORS FREE AND OPEN TO THE PUBLIC!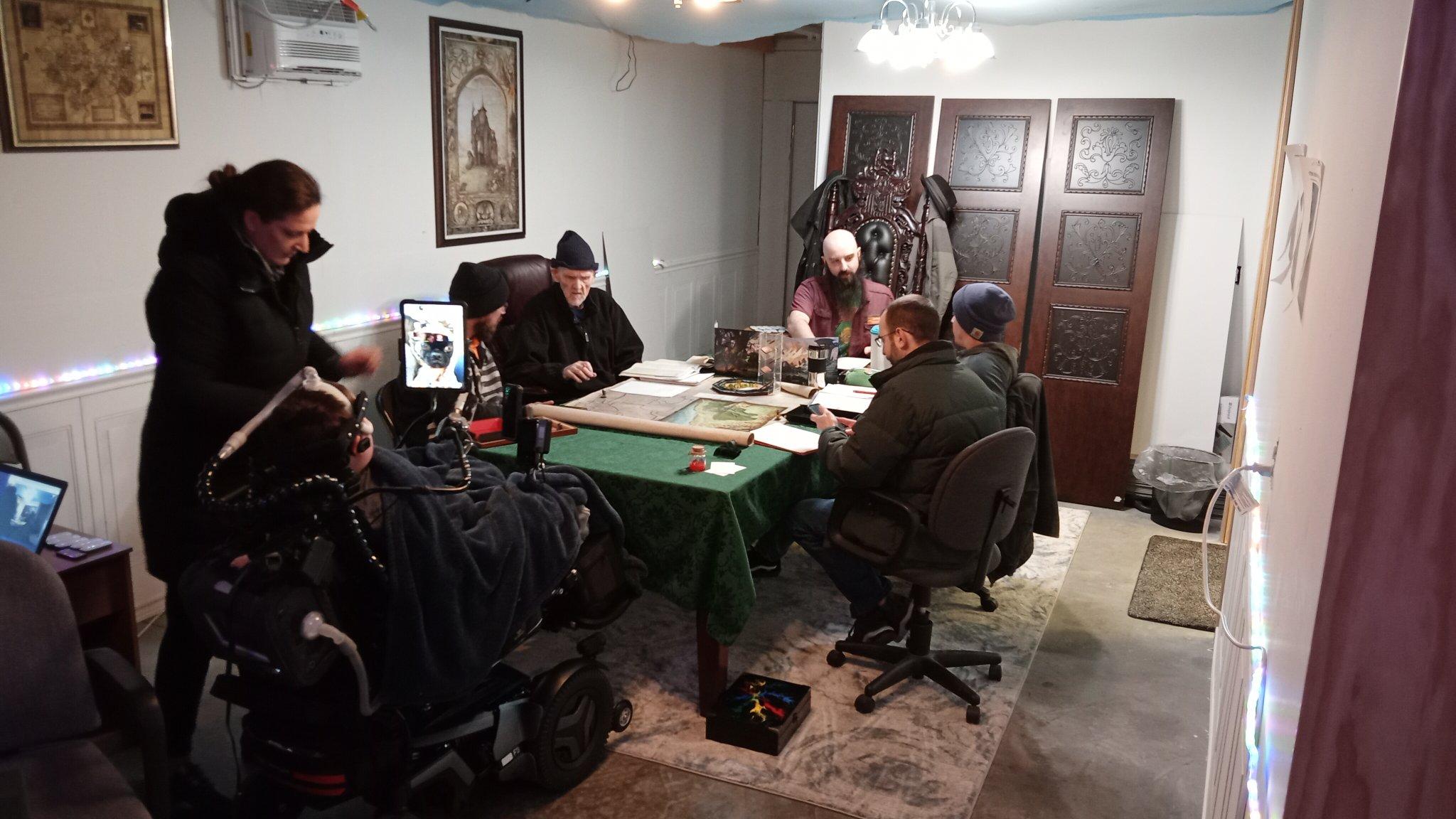 Benefits of our programs for everyone including providing or developing:
Artistic awareness & expression
Behavior guidance & moderation
Camaraderie
Cognitive functioning development
Communication skills
Compassion
Cooperative problem solving
Creativity
Creative writing
Cultural awareness & understanding
Delayed gratification skills
Drawing
Effective assertiveness (not aggressive) behavior, speaking up for oneself
Empathy and compassion development
Ethical development
Family connections
Flow State experiences
Friend-making and deepened friendships
Frustration tolerance
Functioning and quality of life improvements
History learning
Immersive experiences
Impulse control
Improvisation
Individual problem-solving
Intentional speech directed at others
Languages learning & development (native & foreign)
Leadership
Learning complex concepts & systems
Loneliness reduction
Long-term planning
Math fundamentals
Mental health benefits
Music
New friends
Physical well-being
Poetry
Problem-solving
Project management
Quality of life measures
Reaching consensus
Reading literacy and comprehension levels
Reduction in aggressive behavior
Reduction in crime
Reduction in recidivism
Resilience, perseverance, and "grit"
School participation levels
Science
Self-control / Impulse control
Self-efficacy
Self-esteem
Self-identity
Shyness
Social phobias
Social Skills
Theory of mind
Turn-taking
Writing skills
Vocabulary

Role-Playing Game Community Center
Visit the new RPG Community Center (RPG CC) at 101 North Stone Street, Spokane, Washington, 99202. Opened to the public June 26th, 2022.
DONATE TODAY!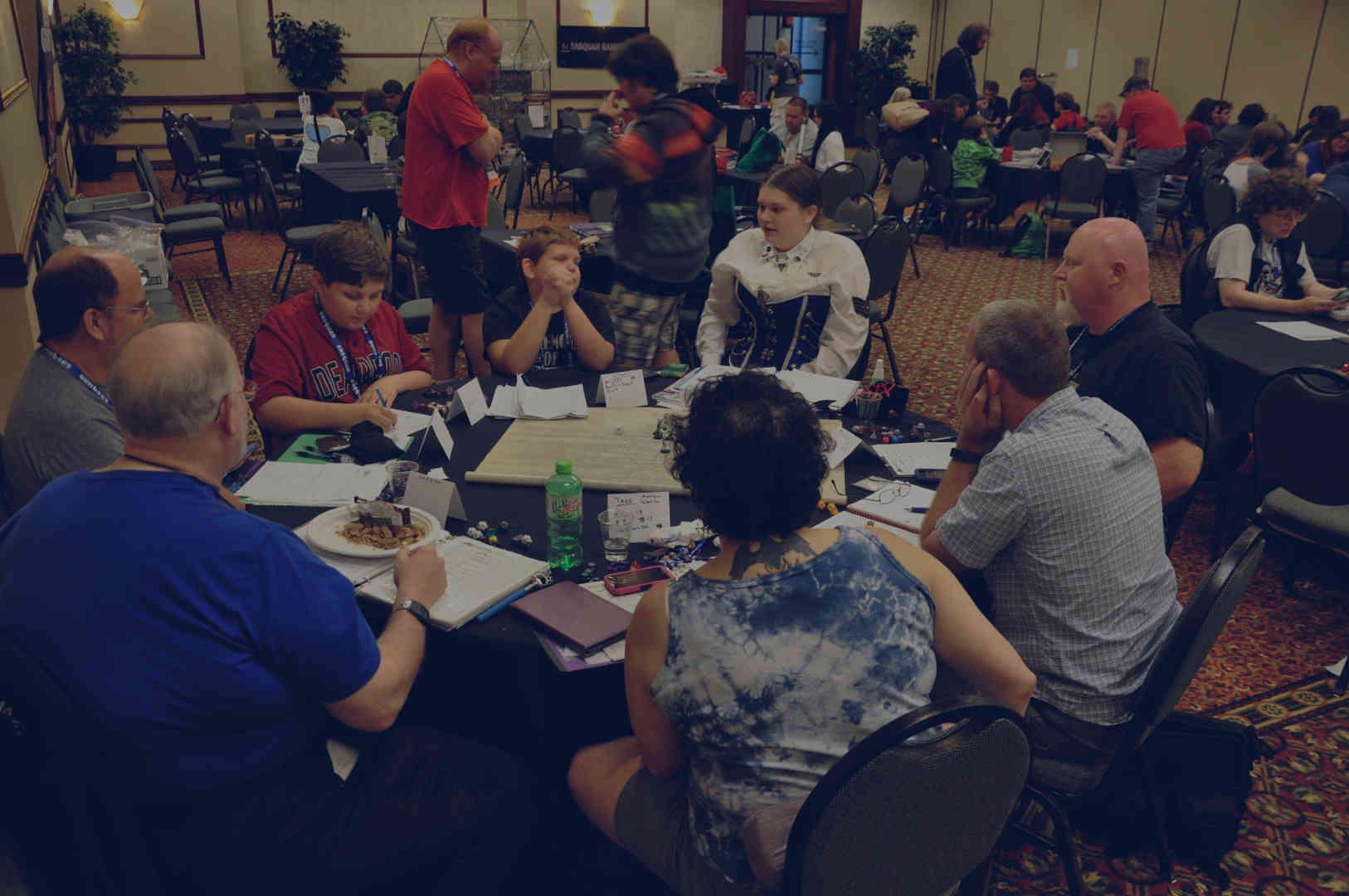 RPG Research Volunteers and the RPG Center
The RPG Center is run by RPG Research's highly trained Game Master / Dungeon Master volunteers. We are 100% volunteer-run, and we can do what we do thanks to the generous support of the community volunteers and donors, like you.
SIGN UP AS A VOLUNTEER TODAY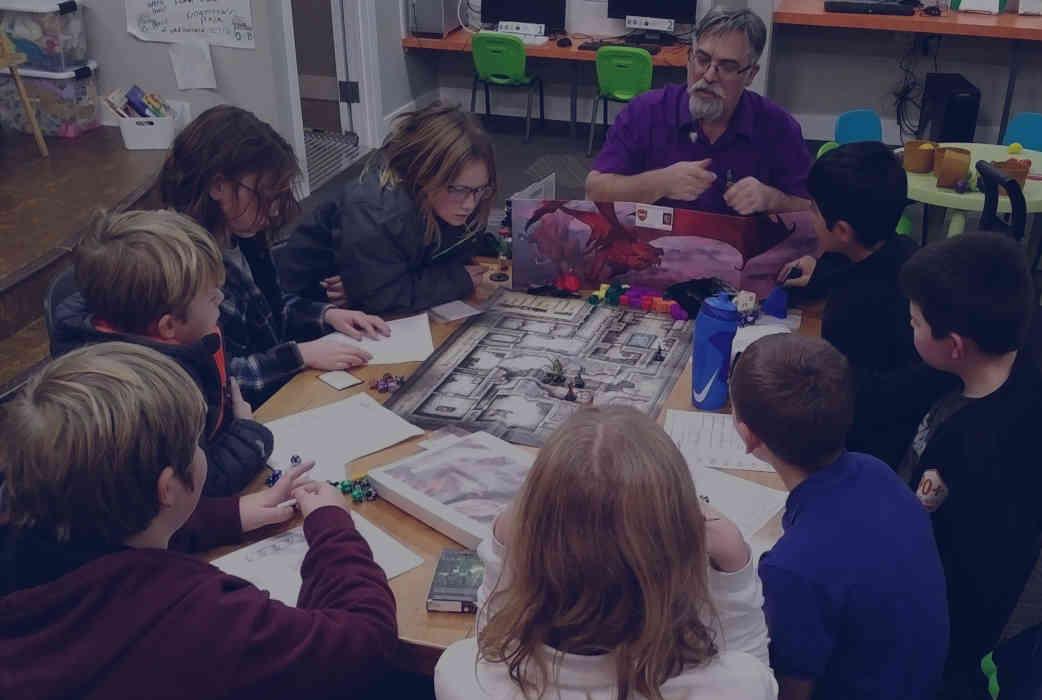 Donate
RPG Research is a 100% volunteer-run 501(c)3 non-profit charity. We are 100% dependent on community and business donations to cover the costs of providing our programs.
DONATE TODAY!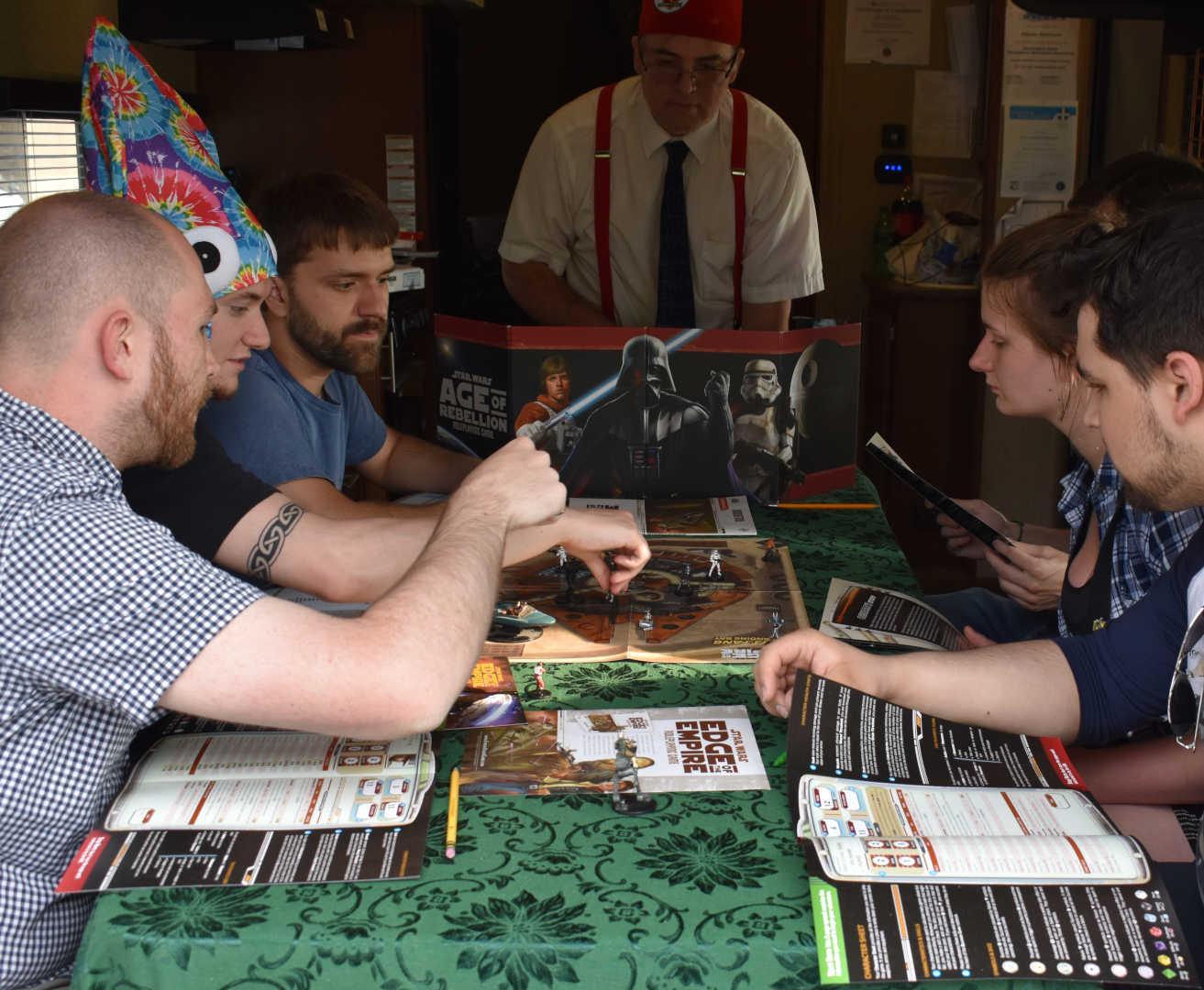 Previous
Next
RPG Community Center Grand Opening Event photo of players, June 26th, 2022, tables 1, 2, 3, and partial reception area.

Donation of castle terrain by supporter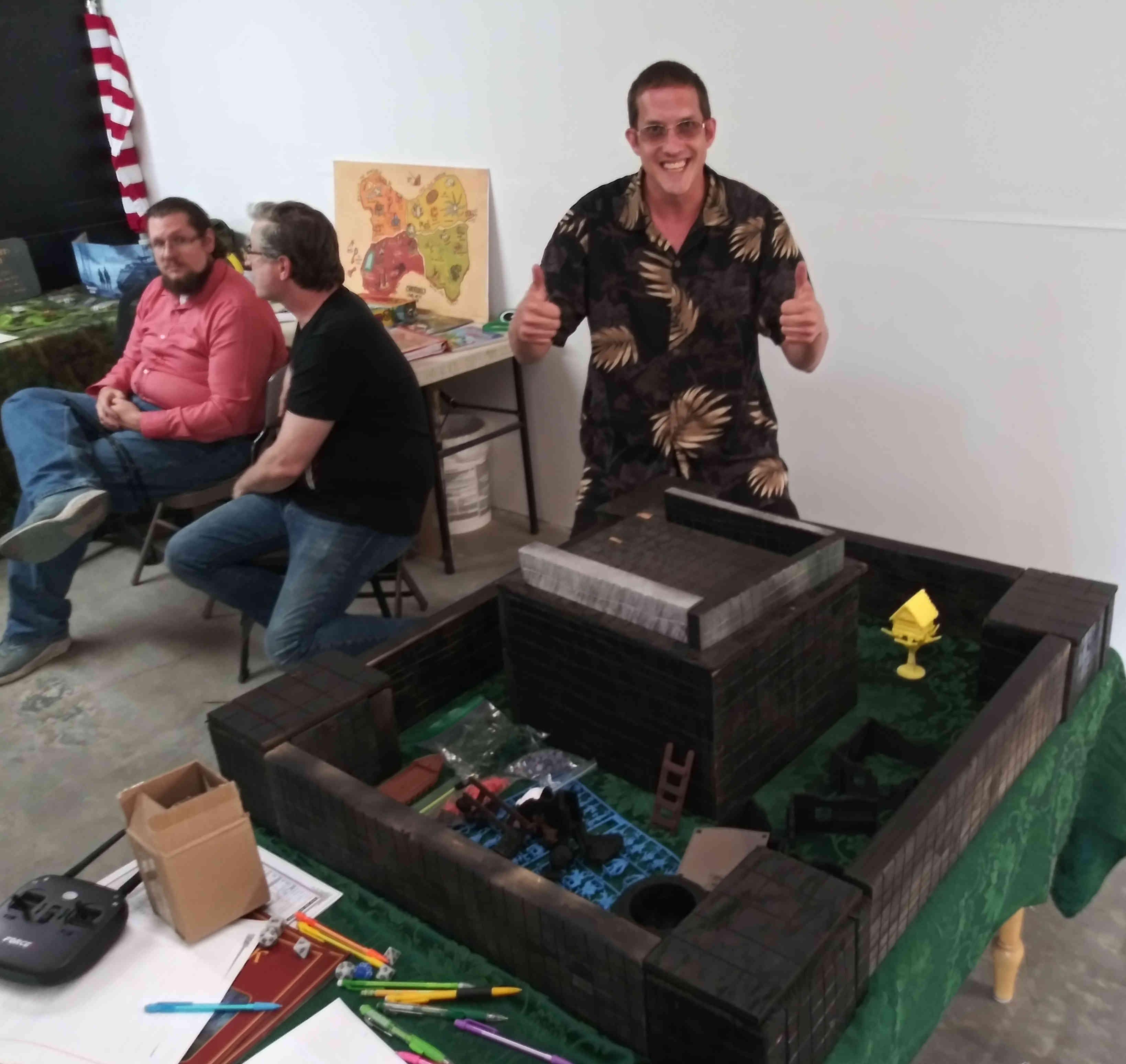 D&D "The Wild Beyond The Witchlight" Platinum Edition by Beadle & Grimm special set on display at RPG Center Grand Opening June 26th.
Donated by Beadle & Grimm to RPG Research.. See unboxing video clips here.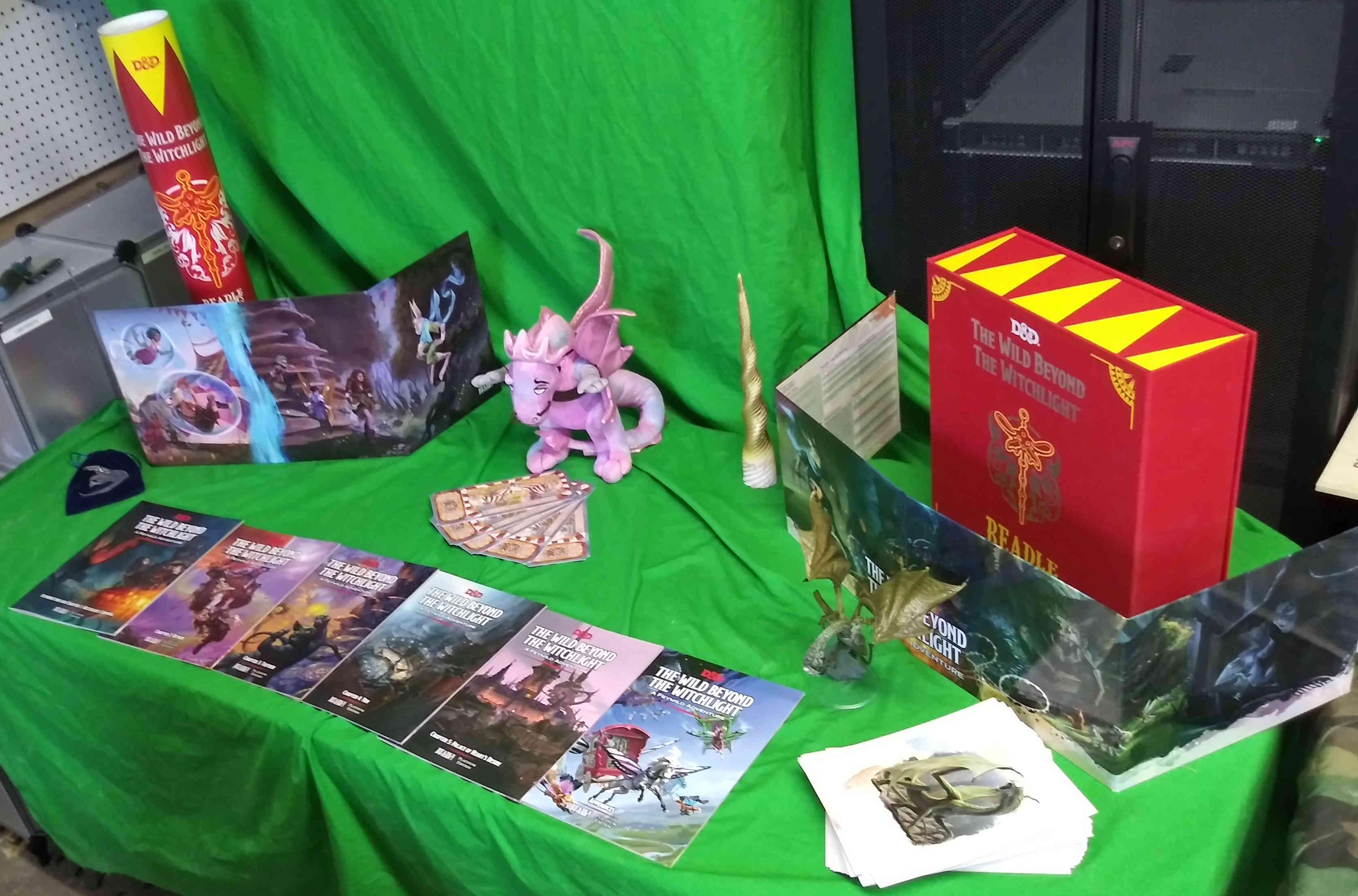 The RPG Center
The Role-Playing Game Community Center provides tabletop role-playing games (TRPG) for children 4-12, teenagers 13-17 years old, adults and senior adults 18+ years old.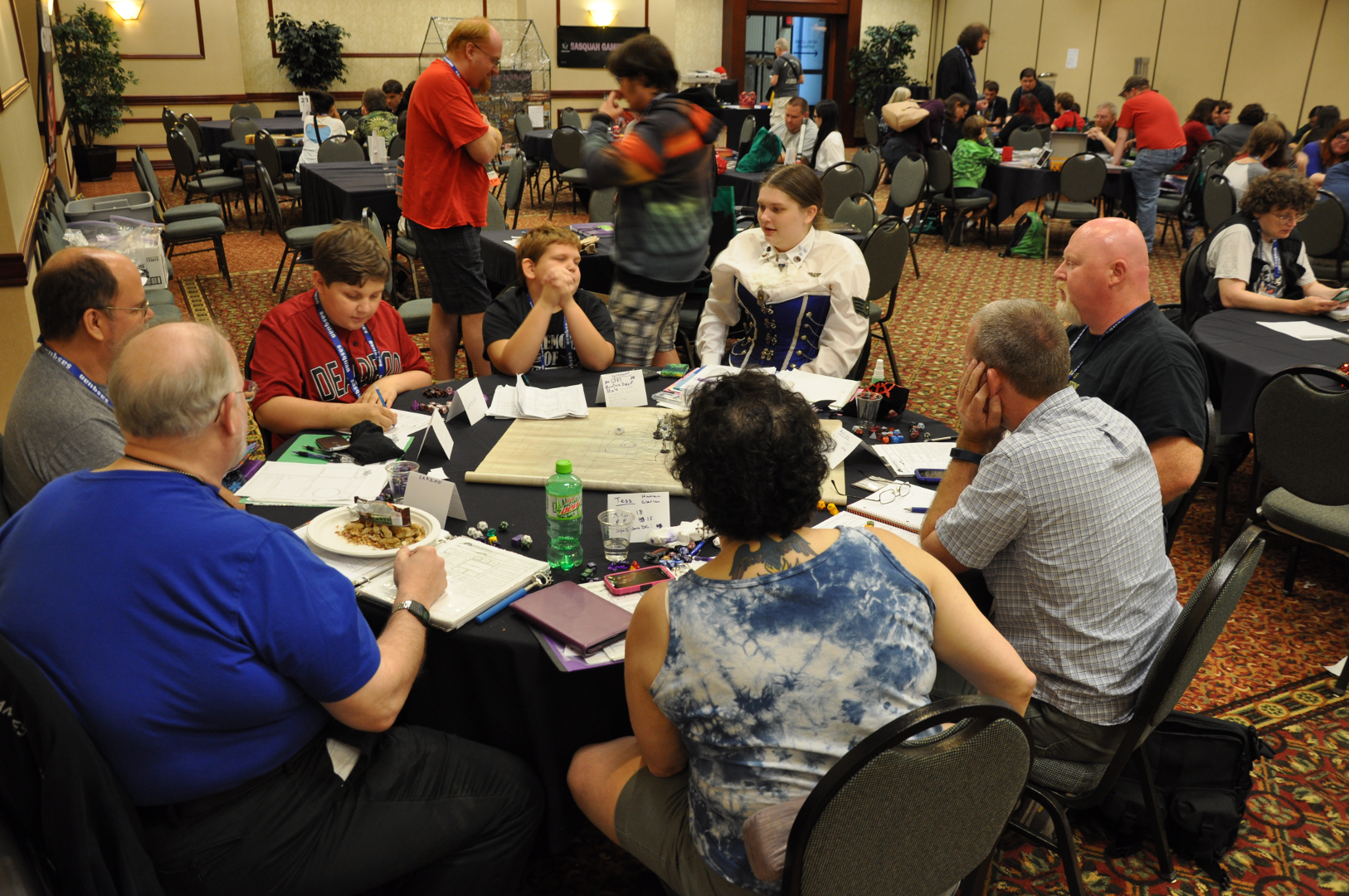 The RPG Community Center Grand Opening to the public was June 2th, 2022 from Noon to 5:00 pm.
The community center's initial public hours will begin July 9th August 13th:
Saturdays 1:00 to 5:00 pm
Fridays 4:00 pm to 8:00 pm
Public access hours will increase as we get more regular volunteers.
Our insurance requires us to always have a minimum of 2 background checked volunteers in the building in order to open the doors to the public since we allow minors in the facilities.
If you would like to help in person as a volunteer, please see our
Volunteer Jobs Page
andsign up today!
The RPG Museum is at th same location but a different building (Building A, while the cmmunity center is Building B). We are hoping to open the museunm to the public near the end of 2022 or early 2023. There is a LOT of work to do on building A (which waw built in the 1890s), and we have to raise funds to cover the very expensive museum / collectibles / unique items insurance coverage.
You can donate to help the 501(c)3 non-profit 100% volunteer run charitable organization, RPG Research, by donating items or money today:!
DONATE
RPG Community Center and RPG Trailers, Street View June 2022
Wheelchair accessible, environmentally stimuli controllable, comfortable, safe, quiet, mobile facilities providing our programs locally and in rural and remote locations to help provide programs to under-served and un-served populations.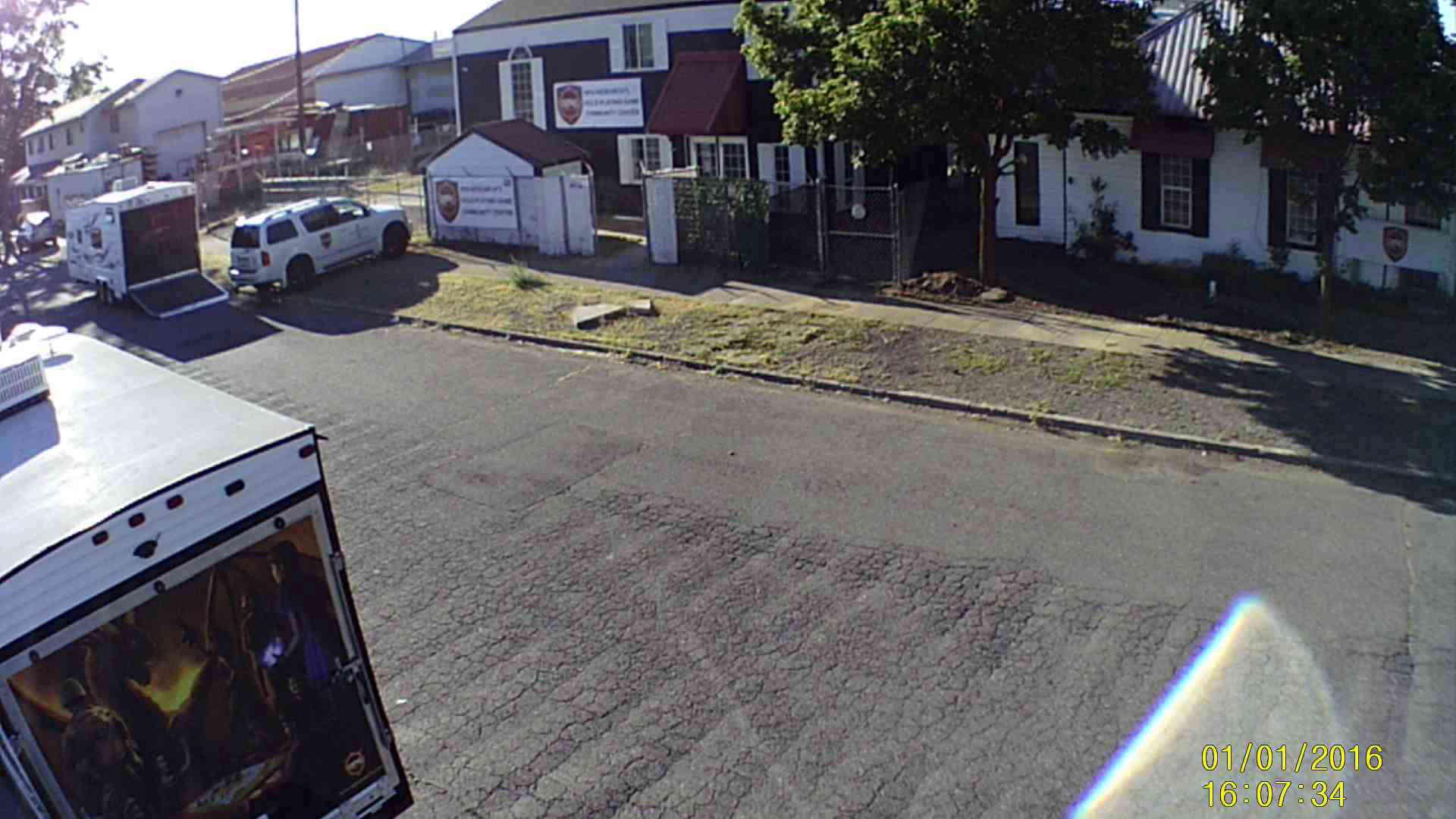 The game tables are run by RPG Research's highly trained Game Master / Dungeon Master volunteers. Our founder has been involved with RPG community programs since the 1970s.
The RPG Center's Grand Opening to the public is Saturday, June 25th, 2022 from Noon to 5:00 pm.
We are 100% volunteer-run, and we can do what we do thanks to the generous support of the community volunteers and donors, like you.
Your donations make all the difference, so please donate today!
Countdown Video to RPG Center Grand Opening:



Here is a clip from the day of the RPG Center's Grand Opening, June 26th, 2022 on RPG Day.

RPG Community Center, RPG Trailers, and RPG Bus, overhead view from south side of Riverside street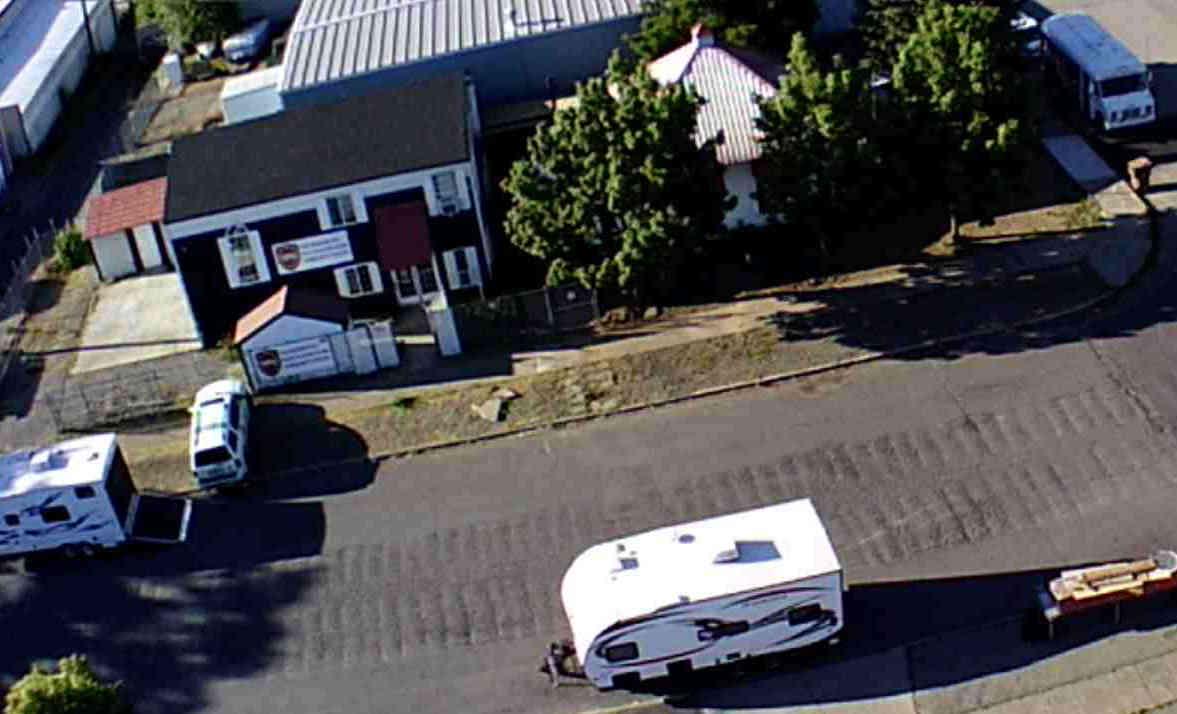 Update about the RPG Community Center. https://rpgcc.org Join the free role-playing games fun each week! Weekly Fridays 4-8 pm, Saturdays 1-5 pm at 101 N. Stone St. Spokane, WA 99202. https://rpgcc.org Phone/text: (509) 608-7630
Ages 4 through 104+ welcomed!
Ages 4 to 12 must be accompanied by a parent/guardian (but we are not a babysitter service).
Ages 13-17 can be without parent/guardian if waiver signed by parent/guardian.

Limited seating available so arrive early/on-time. This week: August 26th and August 27th. Today's game offerings: Call of Cthulhu Pathfinder D&D5e.
Tomorrow's game offerings: The One Ring 2nd Ed FATE.
Other weeks we also may offer: Doctor Who Firefly/Serenity No Thank You Evil and Kids on Bikes for kids Bubblegumshow (13+) Dresden Files Labyrinth Dark Crystal Critical Core Stargate Basic Fantasy Role-Playing Game (BFRPG) Star Wars d6 Dune Twilight 2000 Cypher/Numenera Shadowrun Starfinder FATE Super Heroes and many more! Offerings each week/day vary based on availability of our volunteer game masters and their schedules.
RPG Research is 100% volunteer-run 501(c) non-profit research and human services charitable organization providing community role-playing game programs. RPG Research Mission: https://rpgresearch.com/mission - Vision: https://rpgresearch.com/vision - Impact: https://rpgresearch.com/impact
We have multiple tables available each week. Right now we are at just 3 tables in the main community common area room (Building B, Room 1, tables 1-3) (south entrance through fence gate).
We are working weekly on getting the other separate rooms/tables ready.
We should have 2-3 more rooms in the next week or three ready (the RPG Trailer 1 (Vengeance), RPG Trailer 2 (Octane), and RPG Bus - total 6 tables concurrently).
Room/table 7 is a separate out-building and going to take more donations and work for us to finish the game room building (windows, insulation, sheet rock).
Rooms/Tables 8-12 are in Building A (rooms 1-4 of that building).
We need to get security bars added to Building A's doors and windows before we put anything of value in there, which depends on donations, so it will probably be October/November before those rooms are ready.
We are limited in how many tables we can staff with our volunteer game masters each week depending on the availability of our trained volunteers each week. We will be recruiting new trainees to join our free, rigorous, game master training program, starting next week. Courses for new trainees will begin in September.
We hope to see you at the RPG Community Center soon!
Happy Gaming!
RPG Center and RPG Mobiles, overhead view from corner of Stone and Riverside.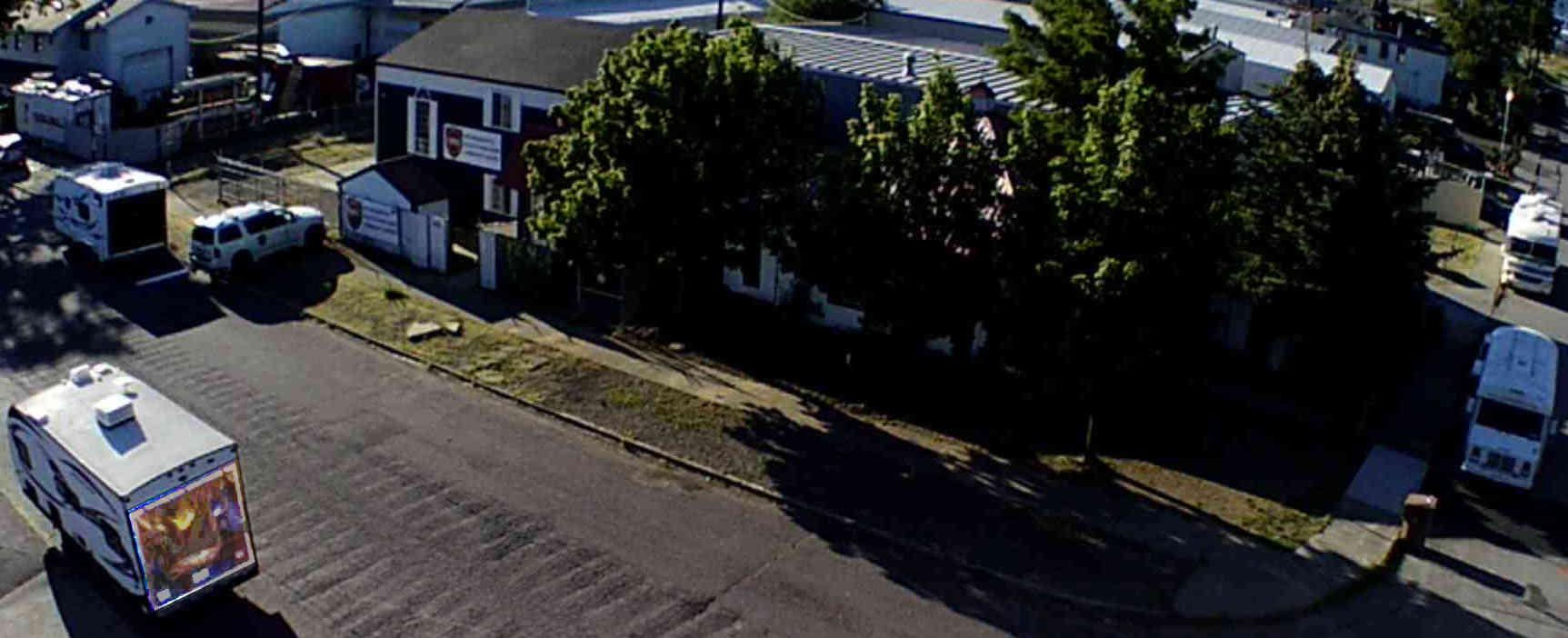 Populations We Serve
The populations we serve include, but are not limited to:
Accessibility needs for mobility, grasping, etc.
Autism Spectrum (ASD, PDD, Asperger's, etc.)
ADHD
Agoraphobia
Anxiety
Aphantasia
Aphasia
At-risk Youth
Brain Injury Recovery (stroke, TBI, etc.)
Cerebral Palsy
Deaf & Hard of Hearing
Developmental Delays
Developmental Impairments
Gifted & Talented
Hearing Impairment
Incarcerated Adults
Incarcerated Youth
In-patient Adults
In-patient Youth
In-patient to out-patient substance dependency rehabilitation transition
Muscular Dystrophy (MD)
Neurodiverse
Panic Disorder
Social Skills Development
Social & Agoraphobia
Vision Impairment
Accessibility / adaptivity
Addiction
ADHD
Anxiety
Autism spectrum, including ASD, PDD, Aspergers, etc.
Aphantasia
At-risk youth and adults
Brain injuries, including strokes and TBI
Cerebral Palsy (CP)
Hearing and deafness
Depression
Developmental delays (DD)
Developmental impairments (DI)
Gifted & Talented
In-patient status of youth and adults
Transitions from In-patient to out-patient rehabilitation programs
Incarceration
Learning disabilities
Muscular Dystrophy (MD)
Phobias, including social phobias and agoraphobia
Trauma & PTSD
Vision and blindness social isolation, recreation and leisure engagement
More Lists of Benefits