Becoming A Better Player: Character Creation for Fantasy Role-playing Games
THREE-DAY WORKSHOP · TUE FEB 11 – THU FEB 13 • 7 – 9:30 PM. Ages 10 – 105. RPG Research at Spark Central Spokane: Becoming A Better Player: Character Creation for Fantasy Role-playing Games.

REGISTER HERE: https://www.eventbrite.com/e/becoming-a-better-player-character-creation-for-fantasy-role-playing-games-registration-84081298427
Learn to make great characters for tabletop fantasy role-playing games with the experts at RPG Research during this three-day camp. In the fantasy world of BF-RPG, will you play a gallant warrior, a sneaky burglar, a master of magic, or something entirely different? Join us to explore the possibilities and find a character you'll love to play!
Kids, parents, seniors, role-playing game enthusiasts, and folks who have never before played role-playing games are all encouraged to attend! The camp will culminate in a special session of Drop in & RPG on Friday, February 14th where participants can run their characters through an adventure together and experience how these games build a shared narrative using cooperative problem solving, exploration, imagination, and rich social interaction.
///
F.A.Q.
Do I have to register to come?
Yes, you must register to come as workshops have a limited number of spots.
How do I register?
Register via our Eventbrite page (if you're reading this, then you're in the right spot!). If there is a cost involved with the workshop, Eventbrite will walk you through the steps to pay for the workshop with a credit card. If you do not own a credit card, email programs@spark-central.org and we'll get you registered.
Who is welcome at workshops? Does one have to have a certain skill level or be a certain age?
Spark Central prides itself on bringing together beginners, professionals, and everyone in-between. Ages determined to be appropriate for the workshop and subject matter are listed in the event description, but please contact programs@spark-central.org if you have any questions about exceptions.
I can only come to some of the sessions of this workshop. Should I still register?
We ask that you register if you can attend all sessions of the workshop. Spots are limited and multi-session workshops build on skills learned in previous sessions. If you become ill after registering or an emergency arises, please contact programs@spark-central.org.
What do I need to bring to this workshop?
Usually, any items you are expected to bring are listed in the workshop description. If you need to bring any special items with you to the workshop, you will receive those instructions in a separate email a week or so prior to the event.
What are my transport/parking options getting to the event?
There is free two-hour parking behind the Spark Central building and 90-minute street parking on Summit Parkway. There is a bus stop on the corner of Summit and Monroe.
Where can I contact the organizer with any questions?
Contact programs@spark-central.org with questions.
GM Training Workshops
Weekly workshops specifically for game masters. Currently on Saturdays from 9 am to Noon, but soon likely rescheduled to Sundays.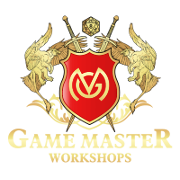 Schedule: Saturdays 9:00 am to Noon (may be changing soon)
Location: North Spokane, Washington, and online.
Description: Simulcast online https://twitch.tv/rpgresearch
Training for new and experienced game masters to help them learn and develop their game mastering skills, concepts, assessment, etc.
Spokane Drum Circle Facilitation Workshop
Workshop: "An Introduction to Drum Circle Facilitation" at the Indie Air Radio concert hall in Spokane, Washington, Saturday, on November 4th, 2017. Space was limited to 35 people, so book. Proceeds went toward building the Wheelchair Friendly RPG Trailer fundraising campaign. We also use drum circles as part of the RPG / LARP experience, to summon for gathering, to build cooperative attitudes, paying attention and following directions, excite or relax participants depending on the goals of the adventure. We have more than enough drums for you, or you are welcome to BYOD (Bring Your Own Drum) if you wish. See you there!
Drumming
We include music and drumming with many of our programs, including training workshops on drum circle facilitation.
Some of our drum circle sessions and workshops are specifically fundraisers to help build the ideal wheelchair friendly RPG Trailer.
More information about:
Drumming and role-playing gaming
Drum circle sessions
Drum circle facilitation training workshops
Full-day Accredited Professional Training Workshop on Bringing RPGs into Your Practice
At the upcoming 4-day ATRA Conference in Reno, Nevada, USA, we are presenting a full-day hands-on training workshop (and 3 days with webinars) for professionals interested in bringing role-playing games of all types into their practice and facilities. We are also offering several (less hands on) webinars during this 4 day conference.
Full day professional training hands-on workshop on bringing all forms of role-playing games (tabletop, live-action, electronic (CRPG, AR, VR, etc.) hybrids) into facilities, at annual ATRA national therapeutic professionals conference. Includes extensive accessibility, inclusiveness, & adaptive equipment & techniques information.
This is a short intro video for RPG Research (and RPG Therapeutics LLC for some parts) at the upcoming ATRA professional conference. Providing a full day workshop (8:30 am to 5:00 pm) training professionals to begin the process for integration of role-playing games into their practice: https://www.youtube.com
https://youtu.be/luEZitYkhWg
Note that RPGs solve the problem of finding proven, effective, intrinsically motivating, COOPERATIVE, socially enhancing activities that provide a wide range of benefits for an extensive variety of populations from ages 2 years old through senior adults, as well as a wide range of special needs populations. Such self-motivating cooperative social programs are in such short supply in most facilities/practices.
Shown to be effective for all ages from 2 years old through senior adults. This program is comprehensive in introducing detailed information on the following NCTRC ATRA areas:
Foundational Knowledge
Research and applicable theories
Evidence-based practice numbers
Assessment
Implementation
Professional development options available
We will also be broadcasting 3 webinars throughout the September 14th through 17th four-day conference in Reno, NV.
ATRA = American Therapeutic Recreation Association.
Accreditation
CEUs (Continuing Education Units): 0.6 (.1 per hour) have been pre-approved by ATRA for this workshop at the conference, in compliance with the National Council for Therapeutic Recreation Certification (NCTRC) guidelines for maintaining the Certified Therapeutic Recreation Specialist (CTRS) certification.
Webinars
If you can't attend the conference in person, you can attend the webinars. These won't have all the hands-on activities of the full-day workshop, but will cover the rest of the material.
Information on paying for and viewing the webinars will be posted here as soon as we receive that information from the conference organizers.
We also have permission to record the all-day workshop sessions (though without the participants shown), and these recordings will be made available to RPG Research Patreon supporters at the $20+/mo level.
Hands-on All Day Workshop Outline
Presenters
Part 1: Introduction to Role-Playing Games (RPGs) as Intervention Modalities in Therapeutic Recreation: History, Theory, Research Evidence, Evidence-in-practice, & Hands-on Examples.
Introductory history, relevant applicable TR theories, RPG Model, and RPG Theory about all 4 role-playing game (RPG) formats: tabletop (TRPG), live-action (LRPG & Larp), electronic (ERPG), & hybrid (HRPG). Also includes format subtypes considerations for variants such as computer-based (CRPG), offline and online, virtual reality (VR), augmented reality (AR), mobile devices, etc. Includes brief audience participation experience with each format in their standard diversionary applications, and then introductory general discussion about their potential application in educational and therapeutic recreation settings.
Reduced lecture portion available as separate webinar Saturday, September 14th, 2019 12:00 pm to 2:00 pm.
Part 2: TR & RPG For Toddlers, Young Children, Youth, Adolescents, Adults, & Senior Adults.
Includes specific program plan examples using Therapeutic Recreation guided RPGs with considerations for toddlers, young children, adolescents, young adults, adults, & senior adults. Various developmental considerations, social skills development for many populations, and many other related topics.
Reduced lecture portion available as separate webinar Sunday, September 15th, 2019, 10:00 am to 12:00 pm.
Part 3: Specific Examples of TR RPG for At-risk, Special Needs, Social Skills Dev, & Many Other Populations.
Includes specific program plan examples using Therapeutic Recreation guided RPGs to achieve specific measurable goals including accessibility considerations, at-risk populations, ADHD, anxiety disorders, ASD/PDD, brain Injuries, Deaf & Hard of Hearing, Muscular Dystrophy & Cerebral Palsy, social phobias, & social skills development for many populations.
Part 4: Professional Development & Considerations for Professionals Using RPGs.
Specific guidance on options for TR RPG related skills development, professional training, certification, market, financial, logistical, legal, and related professional considerations for Therapeutic Recreation Specialists wishing to integrate role-playing games into their facilities or private practice. Also discussion of logistical, legal, and other considerations related to independent TR contracting and independent TR researchers, as well as mobile facilities development and use, including a tour of the wheelchair accessible RPG Trailer and RPG Bus mobile TR facilities that are designed to address many of the issues discussed in all 3 sessions. Includes optional (challenge by choice) end of session participation in hands-on activities with facilitated drum circle (maximum 50 participants) and RPG sessions (maximum 21 participants).
Reduced lecture portion available as separate webinar Tuesday, September 17th, 2019, 2:00 pm to 4:00 pm.
Contacts for More Information
If you would like more information about the conference, workshops, webinars, videos, or future programs and services, feel free to contact either: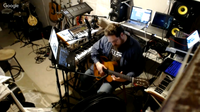 Join the RPG Research volunteer core staff and Hawke Robinson (aka Synthetic Zen), founder of RPG Research (http://rpgresearch.com)
is a Washington State Department of Health Registered Recreational Therapist and has been involved with music since the 1970s. He plays over 20 instruments (not counting 50+ percussion instruments), vocalist, composer, and performer. He performs anywhere from classical, opera, and broadway, to rock, punk, funk, jazz, blues, folk, trip-hop, trance, techno, EDM, new age, and a wide range of World music. More information about Hawke through Indie Air Radio: https://www.indieairradio.com/artists/g-m/hawke-robinson/
The workshop is hands-on. We will be providing a wide range of percussion instruments (50+ instruments to choose from, including some adapted for people with disabilities). The RPG Research Volunteer Core Team will be assisting Hawke in helping participants learn the basics of drum circle participation and some introductory level facilitation techniques.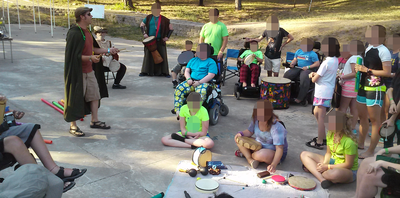 All levels of drum skills are welcomed. Even if you have never picked up a percussion instrument before (though everything in the world around you is potentially one), you will enjoy this workshop. Of course more experienced percussionists are welcomed as well. Maybe you have always been curious about a drum circle, and wanted a safe and comfortable means of checking it out. Now is your chance, and it all goes to supporting a good cause, helping those with disabilities improve their quality of life.
Workshop Overview
Introduction to drum circles concepts.
Overview of percussion instruments from around the world.
Introduction to several basic drum circle facilitation techniques.
Groove (several variations)
Call-and-repeat (several variations)
Accessibility considerations for facilitation drum circles that include supporting people with disabilities and other challenges.
Groove session.
Q&A.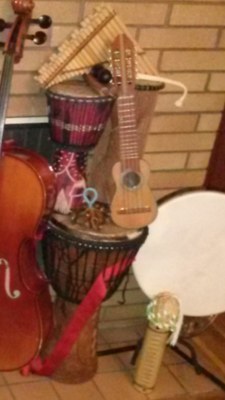 More Information
Email: thesyntheticzen at gmail dot com, or text/call: Hawke Robinson (Synthetic Zen): (509) 481-5437
More about the Wheelchair Friendly RPG Trailer - http://www.rpgtrailer.com

RPG-Research-Therapeutics-ATRA-Conf-2019-Handout-Workshop-1-Outline-20190913e.odt
RPG-Research-Therapeutics-ATRA-Conf-2019-Handout-Workshop-2-Outline-20190913e.pdf
RPG-Research-Therapeutics-ATRA-Conf-2019-Handout-Workshop-4-Outline-20190913d.pdf


RPG Organization - ATRA 2019 Reno Presentation Workshop Session 1 - 20190913e.pptx
RPG Organization - ATRA 2019 Reno Presentation Workshop Session 1 - 20200116f.pptx
RPG Organization - ATRA 2019 Reno Presentation Workshop Session 2 - 20190913e.pptx
RPG Organization - ATRA 2019 Reno Presentation Workshop Session 3 - 20190909d.pptx
RPG Organization - ATRA 2019 Reno Presentation Workshop Session 4 - 20190909d.pptx


001. RPG-098-0000-Q1-Pro RPG-Volunteers-Workshop-Introduction-Presentation-Preview-Baseline-Quiz-rev-20200110g.odp


003. RPG-098-0031-Pro RPG-Volunteers-Workshop-Introduction-Presentation-Intro-to-4-RPG-Formats-rev-20200110i.odp
004. RPG-098-0071-Pro RPG-Volunteers-Workshop-Introduction-Presentation-Intro-to-Domain-Theories-rev-20200111c.odp
005. RPG-098-0076-Pro RPG-Volunteers-Workshop-Introduction-Presentation-Intro-to-RPG-Theories-rev-20200110b.odp

GM-workshops-with-rpg-research-logo-20190415a.png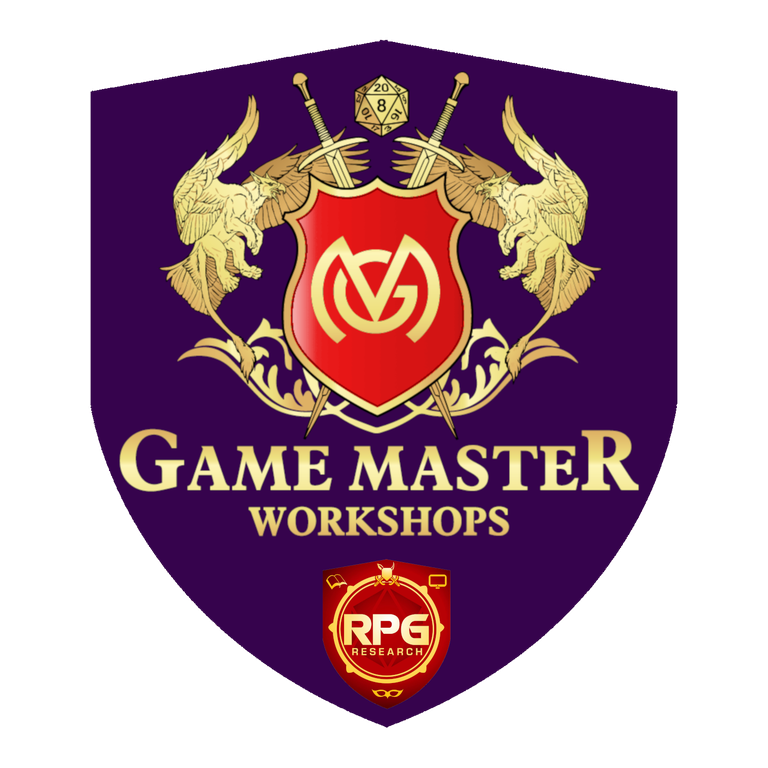 ---
Discuss